2011 Toyota Corolla Introduction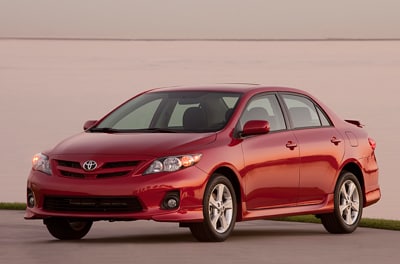 The Corolla is an excellent value among compact cars. A four-door, compact sedan with front-wheel drive, the Corolla inexpensive to buy and operate, yet it feels like a small version of the midsize Toyota Camry.
We found the Corolla reliable, comfortable, and easy to drive, with straightforward controls, minimal distractions.
The 2011 Toyota Corolla features fresh styling. For 2011, the styling has been freshened, with a new grille, bumpers, taillamps and trunk lid. On the inside, there are new fabrics and new metallic interior trim for some models. All 2011 Corolla models come with an all-weather package that includes a heavy-duty heater with a rear vents and more standard equipment. Corolla was redesigned for 2009. Corolla comes with a comprehensive list of standard safety equipment.
All 2011 Corolla models use the same engine, a 1.8-liter 4-cylinder with electronic dual variable valve timing and direct fuel injection. Fuel economy is an EPA-rated at 28/35 miles per gallon the with the standard 5-speed manual transmission, and 26/34 mpg with the optional 4-speed automatic. Output is rated at 132 and horsepower and 128 pound-feet of torque.