2011 Toyota Prius Introduction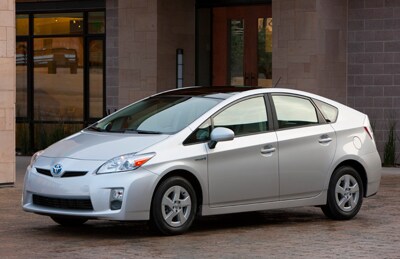 The Toyota Prius was redesigned for 2010, sleeker and more powerful, while delivering an improved EPA-rated 51/48 mpg City/Highway. It's unchanged for 2011.
For 2010, the hybrid mechanicals were lightened by 65 pounds and made stronger. But the Prius still gained 110 pounds overall, mostly from its stiffer body structure. The 1.8-liter gas engine was new, more powerful and efficient. Top speed flew up to 112 miles per hour from 103 mph, on aerodynamic improvements. Acceleration performance is lethargic: 0 to 60 mph in 9.8 seconds. The CVT, or continuously variable transmission, is smooth.
There are three driving modes: EV, ECO and Power. EV is all electric, for very short distances at speeds under 25 mph; ECO provides the best fuel mileage, without noticeably compromising performance; and Power, the default mode, is needed for brisk acceleration.
For 2012, there will be a PHV model, or plug-in hybrid; it's a standard Prius with extra batteries that provide an all-electric range of 13 miles after a three-hour charge at home. We drove a prototype around town for one week, and got about 11 miles to a charge, but the range might be increased for the production model.
Driving the Prius is easy. Handling is easy if not nimble at slow speeds, and the brakes are sensitive while being stacked with electronic capabilities for safety. The ride feels stiff, most noticeable over jagged slow bumps, and interior noise is surprisingly high despite increased sound insulation. Many owners might not notice, but others will, those Prius buyers in search of tranquility.
In the back seats, there's 36 inches of legroom, not great for a midsize car, though we view the Prius as a compact car, and the 60/40 split rear seats have a folding center armrest with two cupholders, for when there's not a third passenger back there.
Cargo space is generous with nearly 40 cubic feet of capacity when the back seats are dropped flat, and the big liftgate makes loading easy.
Technology is in abundance. The Touch Tracer Display projects information before your eyes, so you can keep them on the road. Input comes from the pilot at the controls on the steering wheel, including not just audio and cruise control, but also climate control and trip computer, with telephone and other controls available. A solar-powered ventilation system is available, with remote pre-cooling to cool the car down to ambient temperature before you climb in on a hot day. There's a warning beep when you're unsteady in your lane; radar cruise control; Intelligent Parking Assist that will parallel park the Prius with no steering or throttle input from the driver; and pre-collision emergency braking to slightly reduce the impact when you don't see an accident coming but the car's radar does.
The 2010 Prius was recalled for the accelerator pedal getting trapped under the floor mat, which was fixed with a modification to the shape of the pedal; and a second time because a relatively few owners complained about the way the brake pedal felt when the ABS was activated, so software was changed. Both these changes are on the 2011 model. On the brake issue, Toyota took a bum rap because nothing was found to be wrong except the drivers' experience, not to mention the media blow-up.