2011 Toyota Sienna Introduction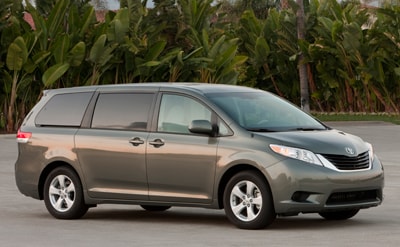 Minivans have always been superior as people movers. They're easier to park and drive than SUVs, have a low step-in height for easy access, plus comfortable seating and cushy ride characteristics.
The 2011 Toyota Sienna, now in its fifth generation, has been designed for those reasons since the beginning. But for 2011, as transportation needs change, so does the Sienna.
The all-new 2011 Sienna is still very much a transportation solution for moving up to eight people. But it is now more versatile, with more flexible interior configurations, and available in a broader range of models. There are models aimed at practical transportation, models driven by luxury tastes, and even a sport model, the SE, that drives and handles more like a sports sedan.
Interior seating arrangements have been completely redesigned and can now be re-arranged more easily to carry passengers, haul cargo, or any mix of both.
Visually, the 2011 Sienna looks less like a minivan than previous generations, with lower, longer lines, and a wider stance. Toyota designers have altered the profile and stance to make the Sienna more appealing. The 2011 Sienna is based on the same platform as the prior generation, with the same wheelbase, but it has more interior room.
The 2011 Sienna is available in five grades, with seating configurations for seven or eight. Sienna is available with the 2.7-liter four-cylinder engine; higher grades are all V6-powered. Front-wheel drive is standard. All-wheel drive is available with the V6.
We found the four-cylinder a good choice. It gets a couple miles to the gallon better fuel economy and works nearly as well for everyday driving. The Sienna SE handles quite well and will be appreciated by more aggressive drivers. The SE sits lower, on a sport-tuned suspension and steering system for quicker feedback and better handling. At the other end of the spectrum is the Limited model, which glides along nice and easy, and it has steering assist that makes it easier to park.
The Toyota Sienna is made in America, designed in California, developed at Toyota's technical center in Ann Arbor, Michigan, and assembled in Indiana. It will be sold only in North America and Puerto Rico.