2012 Toyota Prius c Introduction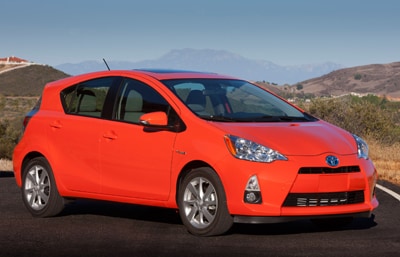 The new Toyota Prius c is what happens when a Prius with a gasoline-electric hybrid powerplant is crossed with a compact four-door hatchback Yaris. Prius c is not a Yaris with a different engine, nor just a shortened Prius. And while Toyota didn't actually say so we believe you can say c is for city. Or compact.
The 2012 Prius c delivers the fuel economy and low emissions of eco-oriented hybrids like the bigger Prius in an easier to manage size and substantially lower price point. To wit, Prius c is more than 19 inches shorter than a Prius, 500 pounds lighter, at least $5,000 less, and it rates 53 miles per gallon on the EPA's City cycle. At $4 per gallon, that's 450 miles on a $36 tank.
Dimensionally similar to the Yaris and a couple of hundred pounds heavier, the Prius c has room for four adults or a three-toddler family. The airy cabin has interesting textures and textiles, and standard equipment on the least-expensive version includes automatic climate control and Bluetooth phone book and streaming audio. Upper level trims have connectivity on par with $100,000 luxury sedans.
A sophisticated combination of gasoline engine, electric motors, big and small batteries, variable-speed transmission, controllers and coolers powers the Prius c at economy-car acceleration and excellent economy. One-touch start, select D and off you go; if you use it the on-board fuel data displays can show you how efficient, or inefficient, you are.
Prius c may qualify for a tax incentive or carpool-lane access sticker in some locales.
The Prius c has no direct compact hybrid competitors. At similar pricing you can get a Honda Fit, Chevrolet Sonic, Ford Fiesta, Hyundai Accent, Kia Rio or Volkswagen Golf diesel. Some of these will come close to the highway mileage of the Prius c, but none will match it in the city.