2012 Toyota Sequoia Introduction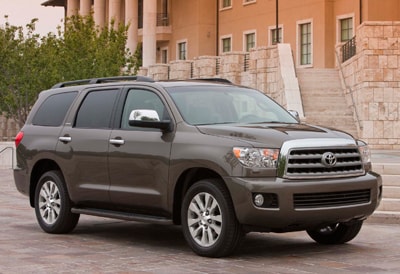 The Toyota Sequoia can transport eight people in comfort with room left over for cargo. Sequoia's interior is designed with generous seats, big armrests, and lots of storage for passengers, with an optional entertainment system for long trips. Toyota's STAR system, a comprehensive combination of electronic safety, stability and traction controls, is standard on all models, as are eight airbags. Properly equipped, Sequoia is rated to tow up to 7,400 pounds.
The 2012 Sequoia offers two engines. The standard 4.6-liter V8 is rated at 310 horsepower and 327 pound-feet of torque and an EPA-estimated 14/20 mpg City/Highway. Sequoia Limited and Platinum models come with a 5.7-liter V8 rated at 381 hp and 401 lb-ft of torque and an EPA-estimated 13/18 mpg City/Highway. Both come with a 6-speed automatic. With four-wheel drive, it's 13/18 mpg for the 4.6-liter, 13/17 mpg for the 5.7-liter. A flex-fuel version of the 5.7-liter engine is available for burning inefficient E85 (85 percent ethanol, 15 percent gasoline), dropping fuel economy to a dismal 9/13 mpg City/Highway with E85 or 13/17 mpg with gasoline. We recommend the 4.6-liter. It's plenty, unless you have a trailer to tow, in which case we recommend the 5.7-liter.
The Toyota Sequoia was completely redesigned for 2008. The base engine got a boost in both power and efficiency for 2010. Changes since then have been confined to options and trim levels. For 2012, Sequoia Platinum models come with a blind-spot monitor, and all 2012 Sequoia models now include the Tundra's Trailer Sway Control (TSC).
This second-generation Sequoia borrows heavily in appearance from the Toyota Tundra, looking very much like the pickup from the front. Sequoia uses much of the Tundra's running gear, but with an independent rear suspension for better ride quality and room for third-row seating.
The Sequoia represents a modern take on the traditional sport utility vehicle. It's big, built to transport people and their gear in comfort across long distances on North American super-highways. It can tow a sizable trailer or continue when the pavement ends and many other SUVs don't look so tough anymore. It's all about getting people in and out easily, keeping them comfy, and making heavy loads secure and routine. It rides quietly, steers easily, and with three models, two drivetrains, and a full complement of features, the Sequoia can meet a variety of wants, needs and price points. We think the Sequoia SR5 is the best model in the lineup for towing, with or without four-wheel drive.
In Toyota's SUV lineup, the Land Cruiser is a more upscale luxury vehicle than the Sequoia and offers greater off-road capability and towing capacity. Conversely, the smaller Highlander SUV and Sienna minivan offer similar features to the Sequoia, drive more like cars and use much less fuel due to their lighter weight and smaller engines.