2013 Toyota Land Cruiser Introduction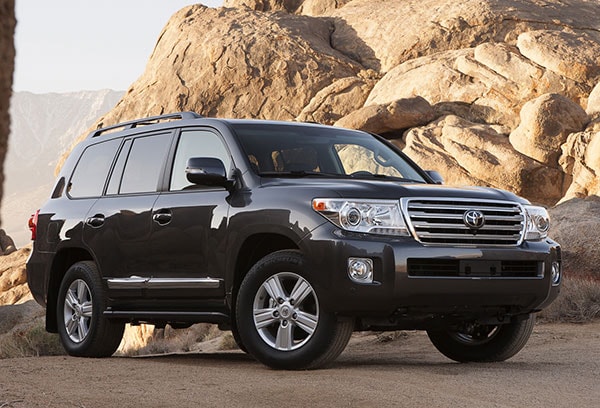 The Toyota Land Cruiser has evolved from the basic four-wheel-drive utility vehicle designed 60 years ago to a luxurious SUV that can seat eight and transport large amounts of cargo. As always, the Land Cruiser can handle any kind of road or primitive trail in any kind of weather. It can tow up to 8,500 pounds.
The 2013 Land Cruiser receives exterior and interior styling enhancements and it comes as one fully equipped model.
All features are now standard equipment; it comes as one fully loaded model. The 2013 Toyota Land Cruiser comes standard with more equipment than the 2012 model. The 2013 Land Cruiser comes standard with an HDD navigation system with Entune multi-media system, JBL audio, a rear-seat entertainment system, rear spoiler, rain-sensing wipers, center-console cooler, headlight washers. leather-trimmed steering wheel, multi-information display, voice controls, Bluetooth hands-free connectivity.
Styling changes for the 2013 Land Cruiser include an updated grille, revised headlights with HID low beams, LED daytime running lights, redesigned tail lights, chrome side molding, redesigned mirrors. New colors are available for 2013.
Still, the 2013 Land Cruiser looks pretty much the same as Land Cruisers have looked for years, even though it was completely redesigned and re-engineered for the 2008 model year. Because of its iconic exterior design, Land Cruisers never look dated or go out of style.
The Land Cruiser features all-terrain capability, with a brilliantly designed suspension that enhances performance on irregular terrain yet does not compromise cornering or braking on paved roads. Land Cruiser owners enjoy an exceptionally secure, comfortable SUV that can make extreme use seem routine. Land Cruiser's body-on-frame construction provides rugged durability for hard use off-highway.
Land Cruisers are high-quality vehicles built in small volumes in Japan alongside Lexus vehicles at Toyota's flagship manufacturing facilities. Used Land Cruisers are scarce and command high prices.