2013 Toyota Prius v Introduction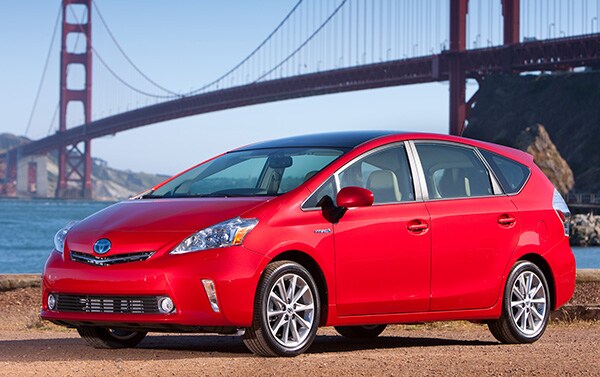 Prius v is like a Prius with versatility. Toyota Prius v uses the same powertrain as in the popular Prius liftback, but with 58 percent more cargo space.
Prius v is 6 inches longer than the Prius liftback, 3.3 inches higher, and 1.1 inches wider, and on the same track. Like the original Prius liftback, the Prius v pairs a 1.8-liter 4-cylinder gas engine to an electric motor, for a total combined power output of 134 horsepower. The battery pack, like other non-plug-in Prius models, is nickel-metal hydride. The continuously variable transmission (CVT) is the same one used in the original Prius. We found it functional, but boring.
Prius v was introduced as a 2012 model and carries over unchanged. New for 2013 is a SoftTex synthetic leather steering wheel on top-of-the-line Prius v Five models.
Like other Prius models, the most compelling reason to buy a V is fuel economy. But because it's 230 pounds heavier than the original liftback, the V isn't as efficient. It loses 8 miles per gallon to the tune of an EPA-estimated 44/40 mpg City/Highway and 42 mpg combined, compared with 51/48 mpg city/highway and 50 mpg combined on 91 octane fuel.
The added weight means Prius v also loses performance: It takes 10.4 long seconds to accelerate from 0 to 60 mph, compared with Toyota's estimate of 9.8 seconds for the lethargic Prius liftback. Those are not impressive numbers. But although the Prius v is slower, thirstier and more expensive, it's is still a compelling choice for families looking for an efficient wagon/crossover with lots of functionality.
Prius v is a handsome vehicle, resembling a swoopy small minivan, not unlike the Mazda5, or maybe like a big Honda Fit without the sharp edges. The nose sweeps sharply up to the A pillars and roof. Toyota engineers paid careful aerodynamic attention to the bumpers, corners and roofline, as well as rocker panels, mirrors, wheels and wheelcovers, and it shows in the form of a drag coefficient of 0.29, which very sleek for a wagon or crossover.
With 34.3 cubic feet, Prius v offers more cargo space than 80 percent of the compact SUVs and mid-size wagons on the market. The rear seats slide back for legroom, or forward to increase cargo space; they also recline, and there's an optional panoramic roof for sky-watching. The front seat folds flat, like the Honda Fit or Jeep Patriot. With that extra 3.3 inches of height and long rear doors, it's very easy to climb in and out of the back.
Prius v handles and corners well, and we found it easier to drive around town than the liftback. Unfortunately, ride quality is quite firm. You feel every bump in this car, and it's soon irritating. Another major drawback, which we've found in all Prius models, is the noisy cabin. The V has added floor rigidity over the original Prius, which helps reduce interior noise, but it's still surprisingly buzzy. Sound deadening material adds weight, which reduces fuel efficiency.
While there aren't any direct competitors to the 2013 Toyota Prius v, the new Ford C-Max hybrid hatchback boasts better driving dynamics and a better interior with slightly better fuel economy. However, the C-Max doesn't offer as much cargo space as the Prius v does.