Sales Hours
Monday

9am - 7pm Appt Only

Tuesday

9am - 7pm Appt Only

Wednesday

9am - 7pm Appt Only

Thursday

9am - 7pm Appt Only

Friday

9am - 7pm Appt Only

Saturday

9am - 7pm Appt Only

Sunday

Closed
Service Hours
Monday

8AM - 5PM

Tuesday

8AM - 5PM

Wednesday

8AM - 5PM

Thursday

8AM - 5PM

Friday

8AM - 5PM

Saturday

8AM - 5PM

Sunday

Closed
Parts Hours
Monday

8AM - 5PM

Tuesday

8AM - 5PM

Wednesday

8AM - 5PM

Thursday

8AM - 5PM

Friday

8AM - 5PM

Saturday

8AM - 4PM

Sunday

Closed

Awards & Accolades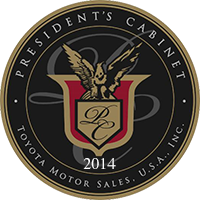 Toyota President's Cabinet
(Top 12 dealerships nationally in Service Satisfaction Index that also attained Board of Governors & President's Award)
2014
The President's Cabinet Award is Toyota's most exclusive and prestigious honor. Limited to a maximum of only 12 dealerships nationally, this elite award recognizes a combination of operational superiority, high-volume sales and, most importantly, outstanding customer satisfaction performance.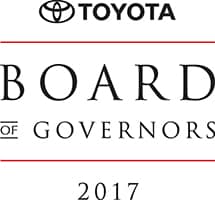 Toyota Board of Governors
(Top 60 dealerships nationally in retail volume)
Every year from 1980 - 2017 except 93, 94 and 09
Given only to the top 60 dealerships nationwide, the Board of Governors Award recognizes a distinguished group of dealers who have achieved outstanding vehicle sales performance while demonstrating a commitment to maintaining Toyota's high standard for customer satisfaction.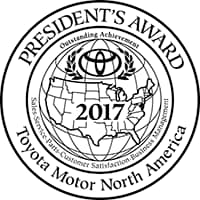 Toyota President's Award
(Top 60 dealerships nationally in retail volume)
1989-1992, 1995-1997, 1999-2002, 2004, 2007, 2010, 2012-2017
Each year, Toyota Motor Sales recognizes its stellar dealerships with the prestigious President's Award. It's one of the highest honors a dealership can receive from Toyota, and is only awarded to those dealerships who have demonstrated a commitment to maintaining Toyota's high standards for customer satisfaction.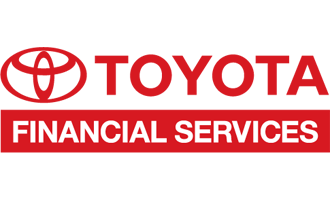 TFS AWARDS
Millennium Award - 15 year milestone (achieved in 2014); 10 Year milestone (achieved in 2009) for being a loyal TFS wholesale customer
Ambassador Award - (retail and lease outstandings); award levels are in the millions
Circle of Excellence - (Charter Member) 2000-2015
From start to finish the experience I had at this location was exceptional. Upon walking in I was greeted by friendly faces and genuine smiles. Everyone's friendly, helpful attitude made the entire experience absolutely enjoyable. They are definitely highly regarded by myself and I would definitely recommend their services to anyone interested in purchasing a vehicle!
Mahikol T. - Garfield NJ
I leased my 2011 Corolla from Hudson Toyota 3 years ago. I recently went back in with my parents to buy-out the lease. I tend to hate going to dealerships due to the aggressive nature of most salesmen, never taking no for an answer, not listening to budgets, etc. This time however our experience was excellent. Our salesman was very polite, helpful, respectful with our decisions and made the whole experience great. He even had some pretty funny jokes. I would definitely recommend this dealership if you're looking for a pleasant experience.
Nomussnofuss from Northern Jersey
I just leased a 2013 Corolla S from Hudson Toyota and had such a great experience! My salesman was awesome and had exactly what I was looking for with the options and color. They also took my trade in with no problem (I left another dealership because they wouldn't take my trade in and were rude). Everything from their customer service to closing the deal was such a pleasure for my 1st new car experience. I would highly recommend this dealership if you're looking for a smooth and pleasant experience. So happy with my new Corolla!
Shell, Northern NJ